This post contains affiliate links.
One of my guilty pleasures is chocolate. I love to include it in many desserts and even spoil me and my husband with delicious chocolate breakfasts! The problem, however, is you can never know how much chocolate you actually need in a recipe. As a result, I always have leftover chocolate.
What Can You Do with Leftover Melted Chocolate?
As a general rule, there are many ways to use melted chocolate. Melted chocolate will usually need to be tempered when using it as a topping, however, if you want to use your leftover chocolate as just a glaze or bake with it, then you don't need to temper it.
I have found that there are so many uses of leftover chocolate. I have found 20 amazing ways to use leftover chocolate! However, some methods require you to temper the chocolate first so make sure to read on to find out how!
20 Things To Do With Leftover Melted Chocolate:
If you've melted chocolate to use and end up having some remaining, there are multiple things you can do to efficiently use up your leftover melted chocolate.
*By the way, you might also want to know How To Store Melted Chocolate To Make It Last. I recently wrote an article that talks about The Best Way To Store Melted Chocolate, which you can check out here!
1. Make Brownies
Brownies are hands-down one of the best things you can ever make. There are corner pieces, centerpieces, they're delicious, and it's chocolate! This sharable dish can use leftover chocolate in two ways.
When you are making your brownie batter, add the melted chocolate and gently fold it in without overmixing. You do not have to omit the cocoa powder. Adding both cocoa powder and melted chocolate will result in gooey and decadent brownies.
The second way to reuse your melted chocolate is to top your cooked brownies! This will create a stunning chocolate glaze that looks more appealing to the eyes and add more flavor!
*Side Note: You might also want to know Why Your Brownies Crack On Top after baked. I recently wrote an article that talks about How To Prevent and Fix Cracks On Top Of Brownies, you can check it out here!
2. Make Melted Chocolate Cookies
To make these fudgy chocolate cookies, you first need to preheat your oven to 350°F (175°C). Then, add four tablespoons (or half a stick) of melted unsalted butter to your leftover melted chocolate.
You may need to warm your chocolate before adding the butter.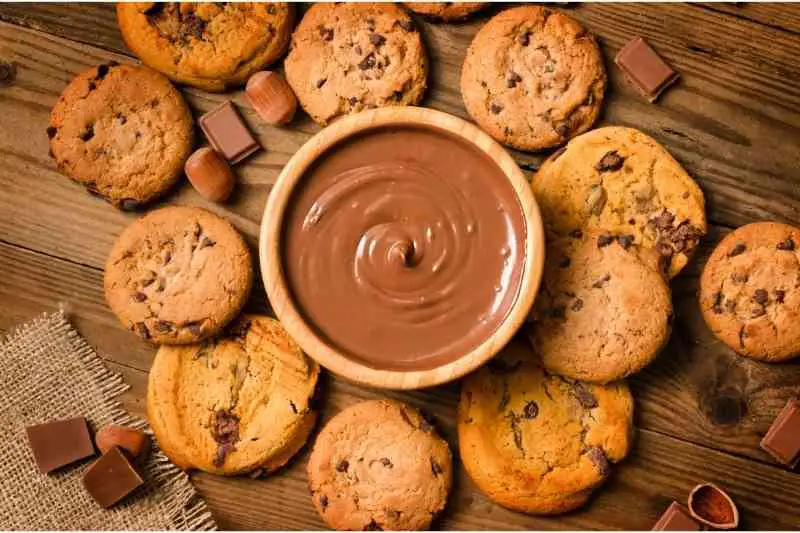 Next, whisk together 90 grams of flour, half a teaspoon of baking powder, and a bit of salt.
With a mixer, beat together two eggs, 150 grams of light brown sugar, and one teaspoon of pure vanilla extract. Turn the mixer to low speed, and then slowly add in your melted chocolate and butter mix.
Mix in the whisked flour mix until it is just combined and then put your batter into your refrigerator until it sets a bit.
Once the batter is a little more firm, put heaps of batter on a cookie sheet using a spoon or cookie dough scoop and bake for 9 to 12 minutes. The trick to these cookies is to slightly underbake them for the best taste and texture.
*Side Note: You might also want to know How To Bake Cookies Without A Cookie Sheet. I recently wrote an article that talks about What Can You Use To Bake Cookies Without A Cookie Sheet, which you can check out here!
3. Make Fondue
Chocolate fondue is great for entertaining, date nights, or even some solo chocolate enjoyment!
With your melted chocolate, warm it up so it is in its liquid state again. Make sure not to burn it! You can reheat the chocolate in the microwave, heating at 15-second intervals. With each interval mix the chocolate to avoid burning.
*Side Note: You might also want to know The Right Way to Melt Chocolate Without Burning It. I recently wrote an article that talks about the Different Ways to Melt Chocolate Correctly, which you might want to check out!
Another quick method is to make your own double-boiler system. Simply take a pot of hot water (not boiling), place it on the stove at medium-low heat, place a heat-safe bowl on top, and add your chocolate. Stir often to break up clumps.
You could also use a Fondue Pot specifically made to keep melted chocolate warm while allowing you to dip anything you want into it. I recently came across a great Fondue Pot that comes with 6 Small Forks. You can check out this Fondue Pot on Amazon!
4. Make Chocolate-Covered Fruit
This method is the one I use most often. When I have leftover melted chocolate, I take out any berries and fruit that I have and dip them! You can use strawberries, blueberries, pineapples, the list goes on!
Simply reheat the chocolate to its liquid form (if it has already solidified) and dip your fruits into the chocolate until they are evenly coated.
Place the chocolate-covered fruit onto a sheet of parchment paper to allow them to harden.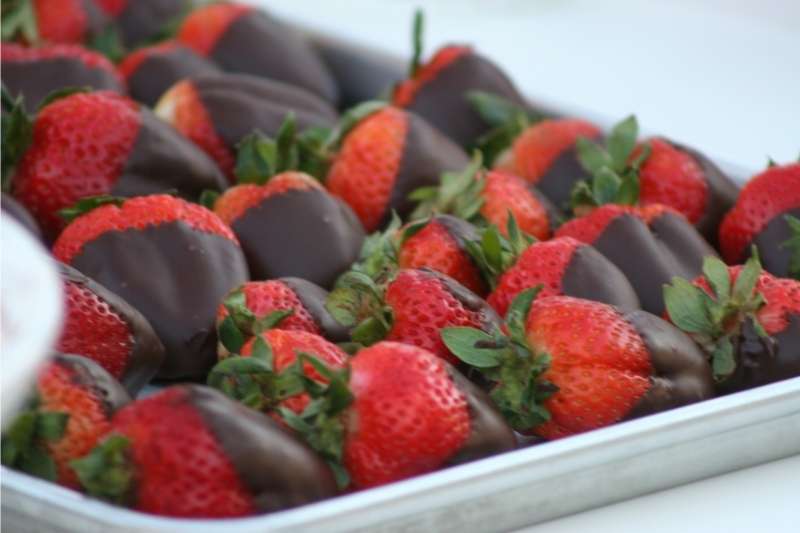 Once they have solidified, enjoy your delicious dessert or package them in a small box to give as a gift to your loved ones!
*Side Note: You might also want to know The Right Way To Store Chocolate-Covered Strawberries To Keep Them Fresh. I recently wrote an article detailing exactly How To Store Chocolate-Covered Strawberries with different types of storing methods. You can check out this article here!
5. Make Pancakes
Pancakes are a classic breakfast dish. Spice things up in the morning with melted chocolate! This can actually be applied in three ways!
One way is to add your melted chocolate directly into the pancake batter. This will create decadent chocolate pancakes which would be perfect with a dollop of whipped cream and freshly cut strawberries!
Another unique way is to add the melted chocolate to the center of your pancake batter when it's in the pan. In other words, make your pancake batter as you normally would.
Add a serving of batter onto your heated pan or griddle. Add a tablespoon of melted chocolate into the center of your pancake and cover it with an extra tablespoon of pancake batter.
What this does is melt the chocolate directly inside of the pancake. When you cut into it, you'll have a gorgeous flow of chocolate from the center of your pancake!
The final way is to simply use it as a topping on your pancakes! I reheat my chocolate and pour it directly onto my pancakes.
6. Make Waffles
Waffles are a great way to use melted chocolate. How? Two words: Chocolate waffles.
I've made chocolate waffles on many occasions. I simply mix the melted chocolate into my waffle batter and pour it into the waffle maker.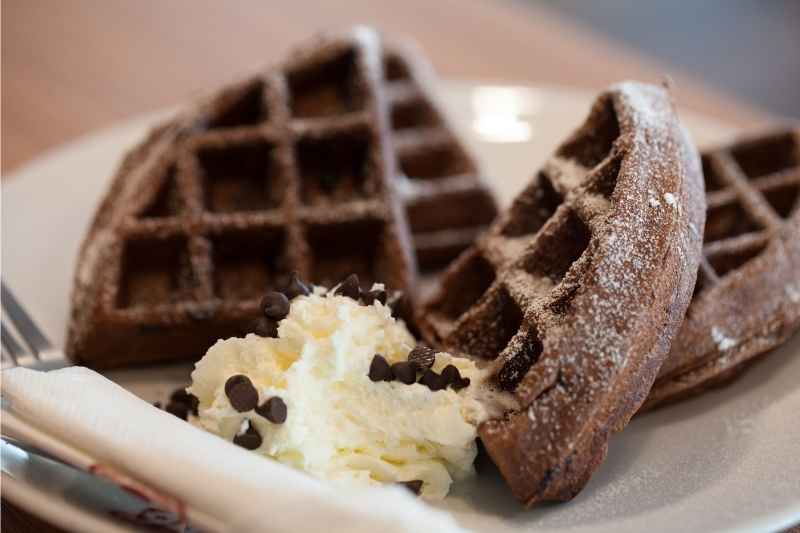 If I'm in the mood for regular waffles, I opt out of the chocolate batter and just use my melted chocolate as a topping on my waffles. I always add fresh fruit if I'm using melted chocolate as a topping to help cut back on the sweetness.
7. Use as a Glaze
To make any dessert more appealing, you can use your leftover melted chocolate as a glaze for many desserts!
I've used my melted chocolate on top of cakes, pies, cookies, and even ice cream! I LOVE adding melted chocolate to my ice cream!
One secret that I will share is: place your favorite ice cream into a bowl, pour melted chocolate on top, store the bowl in the freezer for 30 minutes.
As a result, you will have a delicious chocolate shell on your ice cream! It's one of the best ways of adding texture and flavor to a plain bowl of ice cream.
8. Make Toffee
Toffee is a simple and delicious dessert to make at home. drizzling melted chocolate on top of your toffee will create both a stunning aesthetic to your dessert and also add a hint of a chocolate flavor without overwhelming the dish.
To do this, spread chopped pecans and other chopped nuts onto a parchment paper-lined baking dish. Add sugar, salt, and butter into a pan and bring them to a boil over medium-low heat. Stir frequently.
Once the sugar mix reaches 290°F (143°C) to 300°F (148°C), remove it from the heat and add in vanilla extract. Then, pour the candy mix onto the chopped nuts.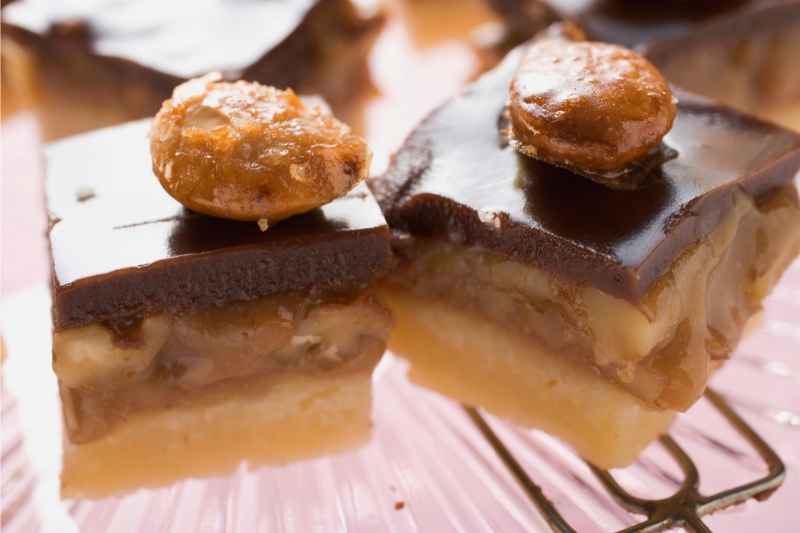 Let the candy sit and cool for a bit before pouring your melted chocolate on top.
Finally, place the toffee into the fridge until it cools completely. Break it into smaller pieces with a knife to eat it.
9. Make Truffles
To take a more sophisticated approach, you can make truffles! Leftover melted chocolate allows us to make truffles quickly with many variations.
Pour chocolate into your truffle molds, pour out any excess chocolate back into your bowl. This will coat the sides of your molds, creating a small "cup" or vessel to add delicious fillings! You can now add chopped nuts, peanut butter, chopped pretzel pieces, and so much more!
Once you've added your filling, pour more chocolate into the old to cover. Place the tray into the fridge to set. Once set, simply pop out your truffles, and voila! You have a stunning and satisfying dessert!
10. Use as a Topping
Chocolate, in any form, is a great form of topping. With melted chocolate, the options are endless! I like to use melted chocolate as a topping for ice cream (see #7 for a secret hack on making chocolate shells for ice cream!).
You can also use melted chocolate as a topping for breakfasts, such as pancakes, waffles, and oatmeal. With desserts, you can use them as a topping or decoration for cupcakes, cookies, cakes, candies, and so much more!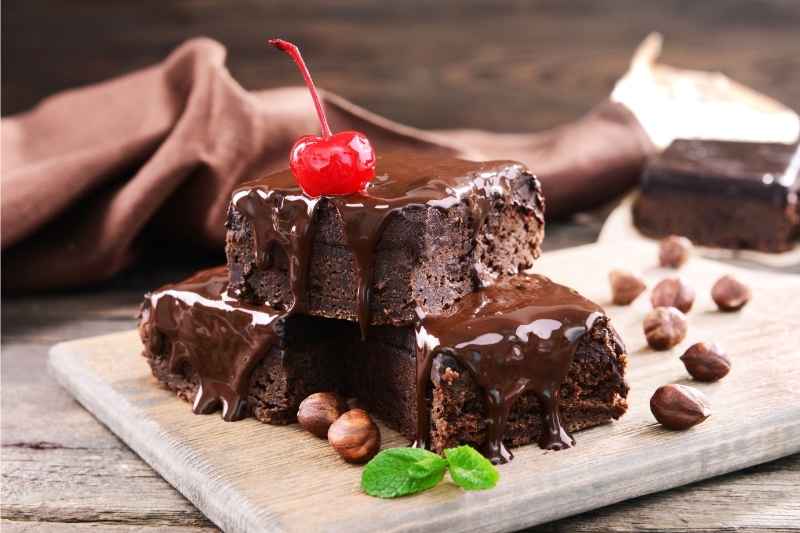 I love to see when melted chocolate is used as a topping. It gives any dessert character and shows appreciation for such a delicacy.
11. Make Hot Chocolate
One of the fun things about chocolate is that not only can we consume it as solid food, but we can also drink it as a beverage! Drinking hot chocolate on a cold, winter day is a great way to cozy up. It is simple to make and delicious!
Heat milk in a saucepan until it's scalding hot and add in melted chocolate!
You know the milk is hot and ready for the chocolate when bubbles form on the sides of the pan as you're heating it, but the milk isn't boiling yet.
Add vanilla or peppermint extract to the hot chocolate for an extra special taste! I also like to add a tiny bit of cinnamon and sometimes ginger to my homemade hot chocolate for that extra little hint of spice.
Add some whipped cream or marshmallows on top for a cozy experience.
12. Add Into Coffee
Treat yourself in the morning to a delicious mocha-flavored coffee! Add a teaspoon, or more to taste, of the melted chocolate into a cup of coffee.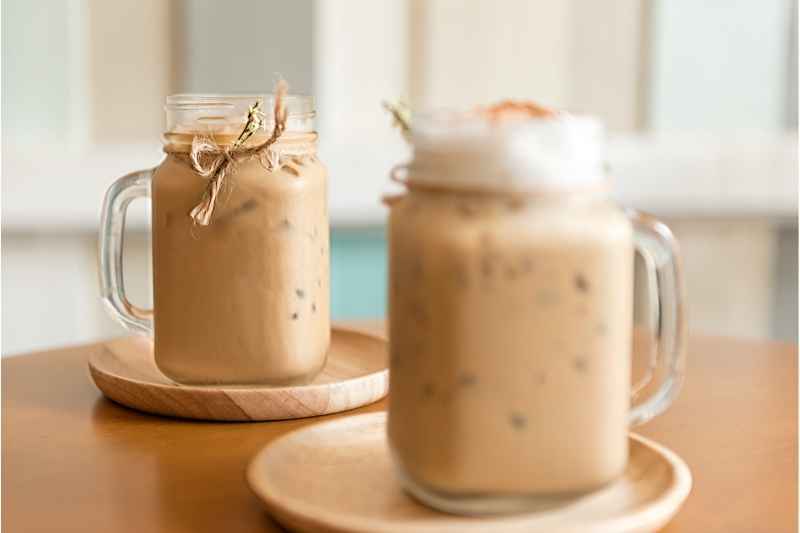 Stir until fully dissolved and enjoy your delicious mocha coffee!
This can be used with any chocolate! I've made coffee with white chocolate and even dark chocolate which add unique flavors to my morning coffee.
13. Make Chocolate-Covered Nuts
One of the best snacks to munch on is chocolate-covered nuts. They provide a satisfying sweet and salty sensation that is hard to resist!
You can use any of your favorite nuts, ranging from peanuts to almonds to macadamia nuts. Regardless of which you choose (or a variety if you're interested), start off by lining a tray with parchment paper and placing the nuts onto it.
Lightly drizzle melted chocolate or pour directly on top for more chocolate.
Place your tray into the fridge to allow your chocolate-covered nuts to harden.
*By the way, the Double Boiler works great when you're trying to melt something like chocolate while heating up other ingredients. I recently wrote an article that gives a breakdown of the 3 Best Double Boilers that people use in each stage of their baking journey.
After reviewing these double boilers, the Best Overall Double Boiler was the Stainless Series 2-Quart Covered Double Boiler which worked great for the dessert needs in my kitchen. You can check out this Double Boiler on Amazon!
14. Make Chocolate-Covered Pretzels
There are two ways you can make chocolate-covered pretzels. The first way is to line a tray with parchment paper with pretzels and pour melted chocolate over them. This is a quick way to enjoy your salty chocolate snack.
The second way is more for aesthetic purposes. You can prep a bowl of melted chocolate and dip a pretzel halfway into the chocolate. This results in a pretty design where the pretzel is only half-covered with chocolate.
Rest the pretzels on some parchment paper and allow them to harden in the refrigerator for an hour.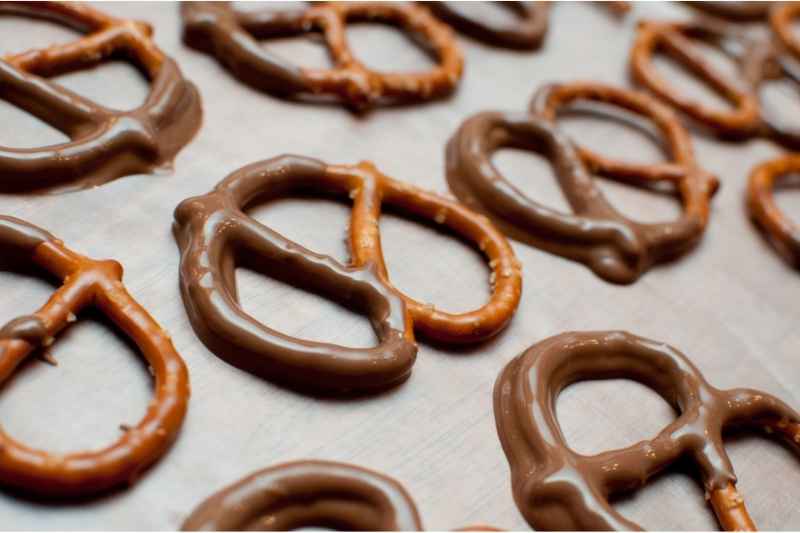 If you don't mind licking your fingers, you can dip the full pretzel into the melted chocolate to get as much on it as possible. I personally do this because I love chocolate!
15. Make Chocolate Bark
Line a baking dish or cookie sheet with wax paper. Pour a tablespoon of shortening or vegetable oil into warm melted chocolate and mix.
Pour the melted chocolate mix on the wax paper-lined dish or cookie sheet and top with chopped nuts or your favorite bark toppings.
Spread the toppings evenly over the melted chocolate. Chill the bark in your fridge and break with a knife to eat or share it.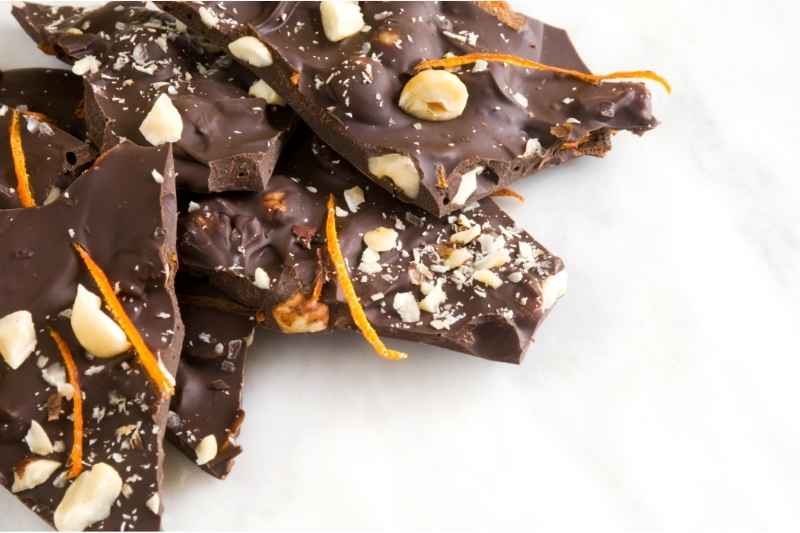 *By the way, if you're looking for some new cookie sheets/baking pans to replace for your kitchen, I recently came across the Perfect Nonstick Cookie Sheets / Baking Sheets Set that I got for myself and they work great! You can check out these Nonstick Cookie Sheet Set on Amazon!
16. Make Candy Bars
A fun way to reuse melted chocolate is to make your own candy bars! Take some candy bar molds and pour the melted chocolate into them. Now comes the fun part! Add in any of your favorite flavorings to make a unique candy bar.
I personally heat up some peanut butter in the microwave and pour it into the mold along with some crushed peanuts for a delicious chocolate-and-peanut butter combo!
You can add crushed pretzels, marshmallows, crushed coffee beans, whatever you desire.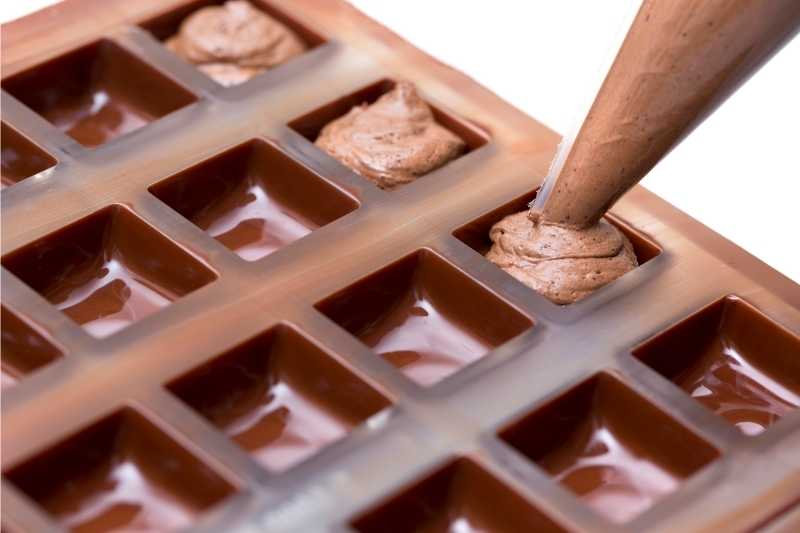 Once you have added everything to the candy bar molds, place it into the refrigerator for an hour or two until it has firmed up.
I recently came across an 80-Cavity Square Candy Silicone Molds on Amazon. This candy mold works perfectly for hardening Leftover Melted Chocolate while giving you 80 potential chocolate candies to enjoy.
17. Make S'mores
S'mores are exciting to eat because of the delicious warm marshmallows that are placed on a piece of chocolate that melts into a gooey masterpiece. To avoid using fire and saving on gooey clean-ups, substitute a chunk of solid chocolate for melted chocolate!
Add a thin layer of melted chocolate onto two graham crackers
Add a marshmallow onto one of the graham crackers and top with the other graham cracker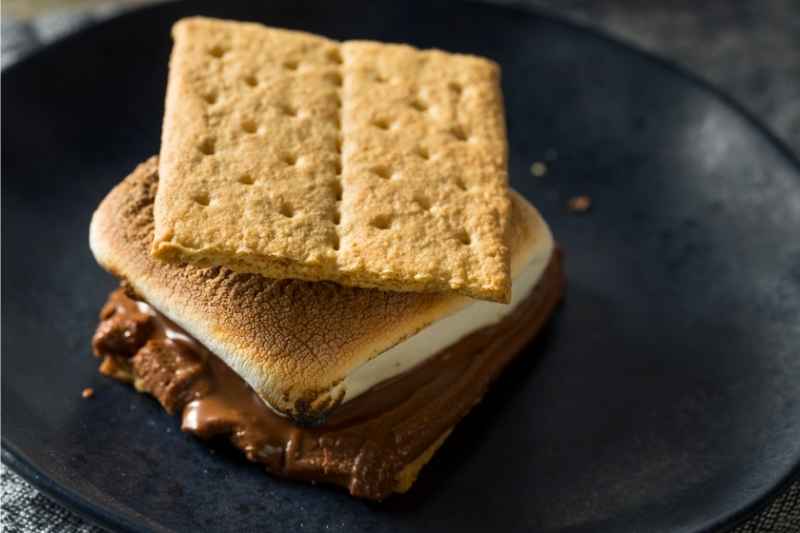 You can enjoy your s'mores right away but if you prefer a lightly toasted marshmallow, take a wooden skewer with a marshmallow and very carefully toast it over the low setting on your stovetop.
18. Make Chocolate Lace
Chocolate lace is a beautiful addition to any dessert. It gets its name from its lace-like appearance.
First, put the tempered melted chocolate into a freezer bag and cut a tiny hole in a corner. Push the chocolate to that corner and drizzle out different chocolate lace designs.
Let the chocolate set in the refrigerator and then place the chocolate lace on various desserts to add sweet decorations.
To do this properly, I pour the melted chocolate into a special piping bag and squeeze designs onto my creations. I recently came across a great Piping Bag With Decorating Tips that works perfectly for this. You can check it out on Amazon!
19. Make Chocolate-Covered Bacon
Sweet and savory is hands-down a perfect match in the food world. A delicious dessert idea or breakfast idea is chocolate-covered bacon! This is a simple and delicious way to use up your leftover melted chocolate.
First, cook your bacon as you normally would. Add melted chocolate onto the cooked bacon by either pouring directly or drizzling a small amount.
This tastes surprisingly good. I sometimes like to add chocolate to warm syrup and pour a bit onto the bacon.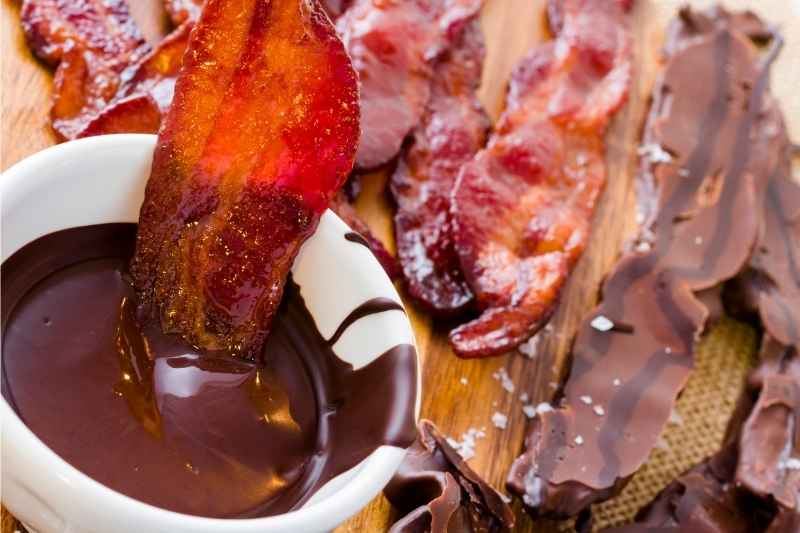 Now I know that this is not your typical dessert, but you should try to make the best out of what you got. Besides, this flavourful snack is delicious!
20. Make Fudge
Heat sweetened condensed milk and butter together in a saucepan over medium heat. Turn off the heat and add in your already melted chocolate, stirring continuously until all of your chocolate is mixed in well.
Scoop or pour the mix into a baking dish and let it set in the fridge. Cut it into squares once it is fully chilled and set.
*Side Note: You might also want to know How To Make Fudge Without Condensed Milk. I recently wrote an article talking about what you must know when Making Fudge Without Condensed Milk, which you can check out here!
To Summarize…
There are lots of creative things that you can do with melted chocolate that could potentially change your view on melted chocolate leftovers! Hopefully, I've now given you many great new ideas to use for yourself. Enjoy!