This post contains affiliate links.
As a baker, I love to bake all kinds of cakes no matter what flavor they are or how they are made. I recently came across a new way of baking a cake and I wanted to share it with you today. It is possible to bake a cake in a can and enjoy all of its flavors in one convenient package.
A cake in a can is a cake that is baked inside of a can. A cake in a can is usually made as an individual cake portion for one person. It is a cake that has all the flavor of the original cake with the ease of baking in a metal can. Make sure to use a can that is not lined with Bisphenol-A.
Learning how to bake a cake in a can has helped me explore more cake baking options. However, there are several other things needed to know when baking a cake in a can. I decided to explore this baking method a little further and found a few things that you must know when baking a cake in a can.
What Is a Cake in a Can?
A cake in a can is a cake baked in an aluminum tin can. This is an excellent way to enjoy a single-serve cake that requires minimal effort. By baking a cake in a can, you are able to decrease clean up by simpling tossing them in the recycle bin or soaking!
There are times when I fancy myself a delicious cake but don't want to spend the time and effort baking an entire cake.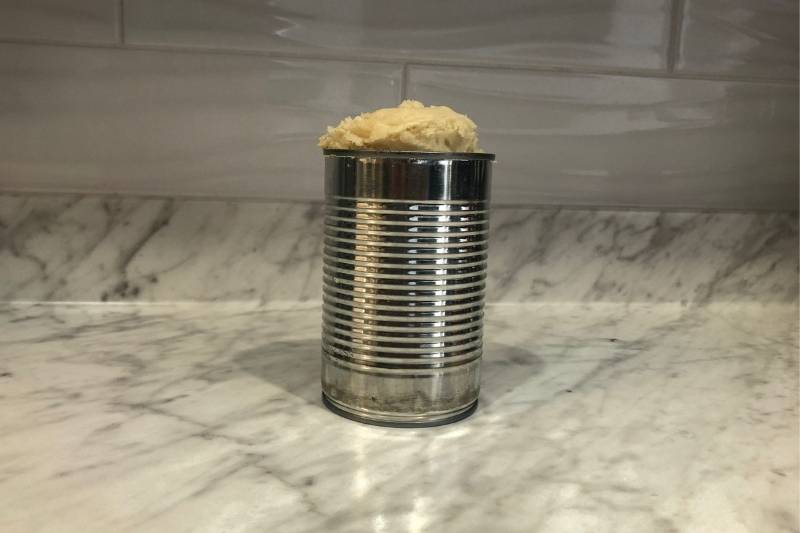 A cake in a can is very similar to a mug cake! Whenever I decide to make a cake in a can, I sometimes use a prepared mug cake mix that I found on Amazon. This Chocolate Mug Cake Mix is my favorite because it has 15g of High-Quality Protein while being very low in calories! You can check this Cake Mix on Amazon!
Other times, I have baked a cake to have for the house, satisfied my craving with a slice or two, and then watched it go to waste in my fridge because I had simply made too much.
This cake will not have leftovers that I will need to worry about storing, and it is also the way perfect to experiment with new flavors that you've never tried before!
A cake in a can is a genius way to help recycle tin cans by putting them into new use as well as saving money on ingredients by using only a minimal amount for a single portion!
How to Make Cake in a Can
To make a cake in a can, remove any packaging and labeling from the pre-washed can. Prepare cake batter in a separate bowl and pour 2/3 of the way to ensure the batter does not overflow as it rises in the oven. Bake for 10-12 minutes at 350 degrees Fahrenheit.
The exciting aspect of making a cake in a can is to experiment with new recipes. When I come across a recipe that I seem skeptical about, I decide to make a small portion for myself as a taste test.
Simply scale down the ingredients of the recipe by 3-4x to not produce any batter that goes to waste.
*Side Note: You might also want to know how to Store Your Cake Batter The Right Way. I wrote an Article about Storing Cake Batter The Right Way, which you can check out here!
Another tip that I would recommend, especially if it's the first time baking a cake in a can, is to place the can of batter on the top rack of the oven while placing a parchment paper-lined baking sheet on the bottom rack. This catches any batter that accidentally overflowed when too much batter was added.
The parchment paper just allows for a simple and quick clean-up if this occurs. Simply throw away the parchment paper, rinse the sheet for good measure, and that's it!
What Is a Good Cake in a Can Recipe?
You can use any type of cake batter recipe to make a cake in a tin, even prepared cake mixes. If you want a simple, homemade cake in a can recipe, follow these instructions:
Combine one egg white and two tablespoons of sugar.
Add in one teaspoon vanilla and two tablespoons melted butter, and stir until combined.
Add in the following dry ingredients: one-fourth cup of all-purpose flour, one-fourth teaspoon of baking powder, and a pinch of salt.
Slowly stir in one and a half tablespoons of milk until you have a smooth batter.
Bake for 10-12 minutes at 350 degrees Fahrenheit
To cut down on ingredients and time, you could also use a pre-made cake mix. Prepare a small amount in a separate bowl and pour it into your tin, baking for 10-12 minutes at 350 degrees Fahrenheit.
Is It Safe to Bake a Cake in a Tin Can?
It is safe to bake a cake in a tin can as long as you use food-grade, pre-washed cans that are not lined with BPA. Any tin can that you buy that had food stored in it will be food-grade. However, many of them will also be lined with BPA on the inside, which should never be used.
Prepping tin cans beforehand is extremely important. One of the first things that you should do is remove any additional labels or packaging on the can.
These are made of paper or plastic and can catch fire in the oven. Try your best to scrape off any labeling; if you are having trouble, use soapy water and a sponge to scrub it off.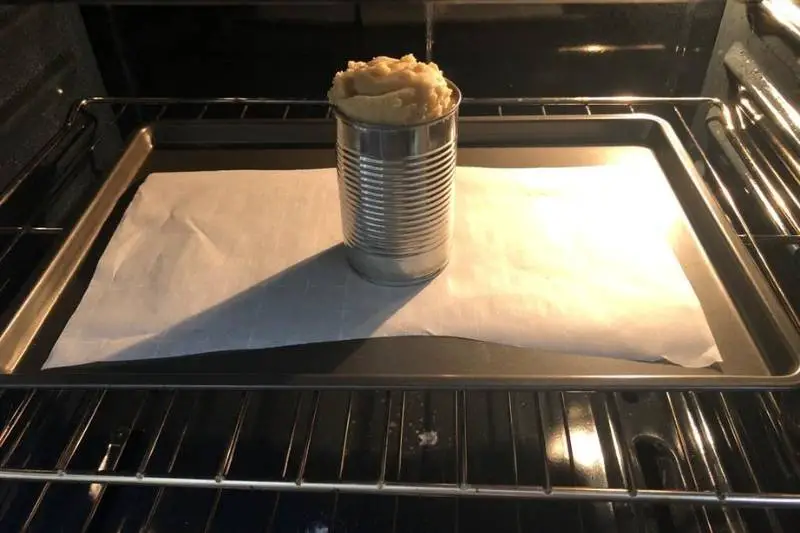 The second thing you should do is properly wash it. Without proper washing, any residual flavors will linger and ruin the taste of the cake. I usually soak the can for 24 hours in hot, soapy water (not boiling). After soaking, I take a sponge with more soap and thoroughly scrub the inside of the can while rinsing with cold water.
Why cold water? I don't know the science behind this BUT my grandmother had taught me that if you want to remove any smell from a container, can, your hands, etc., to use ice-cold water. I've done this since I was a little girl and it has never failed me.
Plus, who wouldn't trust a grandma with decades of experience in the kitchen over science?
What Is BPA?
BPA is Bisphenol A, a plastic coating that is placed in many food-safe storage containers. BPA is used to help prevent the food's acids from destroying the tin can.
As a result, this BPA barrier between the can and the food prevents the metal itself from seeping into the food as well as preventing corrosion of the metal.
You do not want to use BPA-lined cans when you are baking a cake in a tin because BPA can leak into the cake itself. As you bake with a BPA-lined can, the heat will melt the compound and seep into your cake. Make sure to use food-grade cans if you plan on baking with them.
*Side Note: If you want to learn How To Bake A Cake Without Vanilla Extract, I recently wrote an article talking about the Substitutes that you can use for Vanilla Extract, which you can check out here!
How to Prepare The Can for Baking
A tin can must be prepared before you can fill it with batter and stick it in the oven. Follow these steps:
Soak and clean the can thoroughly.
Remove any outside label. Leaving paper labels on the can result in a fire.
Spray the inside of the can with cooking oil or spray to make sure the cake doesn't stick.
Soaking the cans for 24 hours in hot, soapy water will allow for any residual foods to be unstuck from the can. Soaking also helps loosen up any leftover paper labels on the can. Thoroughly scrub the inside and outside of the can and allow it to dry.
An important tip that should always be used prior to baking in the can is to thoroughly spray the inside with cooking spray. This prevents the cake from sticking inside.
Can Cans Go in The Oven?
As a general rule, you can use aluminum cans in the oven. Aluminum cans are a great conductor of heat, which will result in your food being evenly heated as it cooks in the oven. Make sure any paper and plastic labels have been removed to prevent a fire.
I like being able to bake a cake in a tin can. I know that when I bake the cake in a tin can, I can be assured that the food will be delicious, and the tin will not crack or melt. Also, always make sure to triple check if the can is free of BPA before doing any baking.
*Side Note: I recently wrote an article about If It's Safe to Use Aluminum Foil In The Oven. This article talks about what you can expect when using aluminum foil in the oven. You can check out this article here!
Can Cans Be Cooked Over a Fire?
As a whole, you can cook your cake in a can over a fire. You should always make sure that the can is not lined with BPA or other ingredients, but as long as your can is unlined, you should feel free to use it over a fire. Wrap the can with aluminum foil to prevent debris from entering.
One major important difference between cooking in a campfire and cooking in an oven is that when you cook a cake in a tin in a campfire, you will want to cover the tin with aluminum foil. This will help to keep out any unwanted debris from the fire so that you are not picking out splinters of wood from your cake.
Making a cake in a can over a fire can be a great exercise when you are going camping.
You will simply need a grill grate or other camping tools to make sure that the cake in a tin receives consistent heat for the time that it needs to cook. It is also possible to simply place the can in the campfire directly.
The cooking time can vary widely, depending upon the type of campfire that you have, but may take as little as ten minutes. Prepackaged cake recipes are really great tools when you are going camping and want to cook cakes in a tin over a campfire.
Where Can I Buy Cake in a Can?
Your best bet for buying cake in a can is to purchase one from an Internet store. For example, the Food Ministry is a UK company that has a variety of pre-made cake ingredients that you can purchase. For these cakes, all you have to do is add water and stick the can into the oven.
Do You Need to Buy Cake in a Can?
Finding a place to purchase and deliver a cake in a can may be a chore, and you do not have to buy a cake in a can. You can simply use what is already in your pantry, clean the can out thoroughly, and use a pre-packaged cake mix.
Those simple steps will help reduce the shopping that you need to do in order to find a cake in a can.
How to Serve a Cake in a Can
Serving a cake in a can be done on a plate or still in the can. The method you decide on is entirely up to your preference. One method gives a more intricate look while the other has a rustic touch. Serving the cake with frosting or other toppings is recommended.
One of the best parts of making a cake in a can is the fact that the dish is so versatile. It can be served in a can with a bow around the cooled can if you want to have a more "rustic" feel to your treat.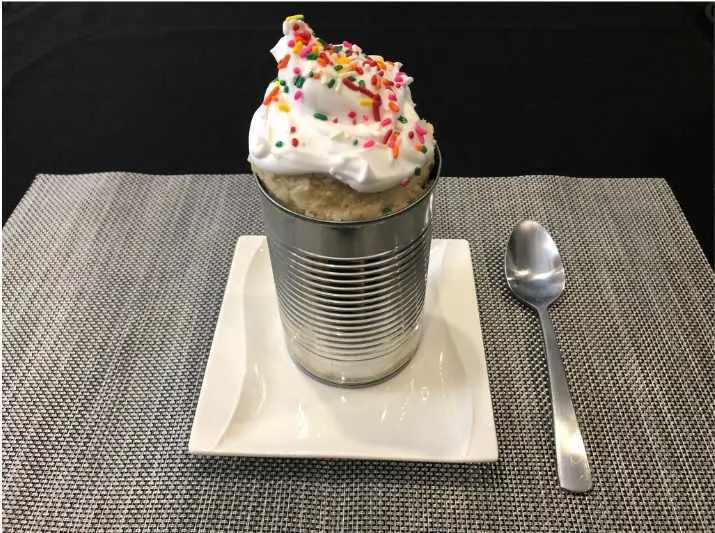 Or maybe you want to serve it on a plate, with icing along the sides, and sprinkles on top.
I have served a cake in a can on fancy plates and while still in the tin. I prefer doing this because my friends get to choose what toppings to put! One person might want whipped cream and fresh berries while another would want ice cream and a chocolate drizzle.
Best Occasions to Serve Cake Still in a Tin
You can serve the cake in a tin for any occasion. But if you are looking for ideas about what type of occasions you might want to serve the cake in its cooking vessel and skip the extra dishes, here are a few suggestions:
Kid's birthday party: Kids will love the idea of a special cake just for them, and you can use different color frostings or to make it truly special.
Cowboy-themed bridal shower: Wrap a fancy bow around the tin can and serve on a table accented with "country" decorations for a unique bridal shower to suit her tastes.
Summer party: A cake in a can will taste great as a dessert dish, alongside hamburgers, hot dogs, and potato salad, along with bright and colorful summer outside décor.
Regardless of the occasion, a cake in a can could be personalized for any individual! After baking and cooling, kids can choose to decorate the can with their name or put stickers on it. Whatever the occasion, it'll be sure to wow your guests!
*Side Note: You might also want to know why your cakes can sometimes come out Crumbly or Moist. I dug into the root of the problem and I wrote an article about Preventing and Fixing Crumbly and Moist Cakes, which you can check out here!
To Summarize…
Finding new ways to make and eat cake is always something I'm trying to do. A cake in a can has been the most unique way to serve individual cakes to guests.
By reusing tin cans, you are not only saving on dishes but also helping the environment by recycling in such a fun and delicious way!