This post contains affiliate links.
No one wants to find themselves without their regular oven, but sometimes it's unavoidable. Whether you're in the middle of a kitchen renovation or haven't had time to unpack from moving, there are still plenty of ways to bake pastry dough.
Here, I give you six different methods that will let you make your favorite pastries even when your oven is out.
Can You Bake Pastries Without an Oven?
As a general rule, you can bake pastry dough without an oven. The best way to bake pastry dough without an oven is by using an air fryer. However, there are a number of other ways to bake pastry dough to get the same crispy texture as you would from a regular oven.
While these methods may not be as perfect as using a regular oven, they will still get the job done. So, if you're in a bind and need to bake something, don't worry – these methods will help you out!
6 Best Ways To Bake Pastries Without An Oven
Here are the best alternatives for baking pastry dough without an oven:
A Stovetop
An Airfryer
A Dutch Oven
A Ceramic Pot
A Tandoor Oven
An Earthen Oven
While pastry dough is a very sensitive and fragile type of dough, it could also be very resilient once baked with care. To use these alternatives correctly, you need to be careful with every step of the way.
Baking and cooking pastry dough in some of these substitutes will be harder than it seems. However, with some practice, you could get the best tasting pastry dough you've ever tried!
*Side Note: If you ever wanted to know The Real Difference Between A Cake and A Pastry. I recently wrote an article that compares their similarities and differences. You can check out this article here!
1. A Stovetop
If you have a stovetop, you can use it to bake pastries. This is a great option if you don't have an oven or if your oven is currently out of commission. The key is to have a proper seal on the top of the pot to prevent heat from escaping.
To bake on a stovetop, you will need a heavy metal pan or pot. The pan should be big enough to fit the pastry you're baking.
Preheat your pan on medium-high heat before adding the pastry. Make sure the pastry is in a single layer and not touching each other. Cover the opening of the pot with aluminum foil and cover with the lid. This ensures that no condensation builds up as well as prevents heat from escaping.
Keep the pot on the stove at medium heat for about 15-20 minutes.
*By the way, if you're looking to renew your set of baking pans, I recently came across a Set of 2 Nonstick Heavy-Duty Forged Aluminum Fry Pans that work great for almost any of my kitchen needs. This set has two pans, 8″ and 11″ sizes, and they are oven and dishwasher-safe. You can find this set on Amazon!
2. An Air Fryer
An air fryer is a great alternative to a stovetop or an oven, especially if you don't have either one. It's lightweight, inexpensive, and doesn't take up much space. The temperature can be regulated and baked evenly throughout.
To use this device, preheat the air fryer on 350°F (or 176°C) before putting your pastry inside. Cook for about 15 minutes or until the crust is golden brown.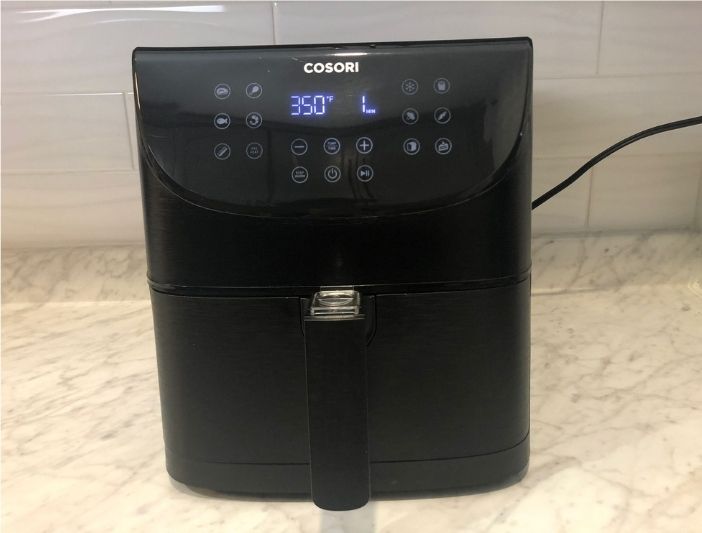 I sometimes prefer this over the oven because it takes forever for the huge appliance to preheat! It's especially an inconvenience when I'm baking in the summer, the added heat from the oven can be a pain. I switch to using my air fryer instead because it provides great results.
I recently wrote an article where I talk about the 4 Best Air Fryers on the market right now. Click on this article if you're looking for a throughout breakdown of these 4 air fryers.
I personally use and recommend the COSORI Smart Wifi Air Fryer. This air fryer has served me for many years and works great for warming up your delicious cookies. This air fryer even has an app that alerts me every time my baked goods are ready while connecting to my Alexa or Google Assistant. Check out this Air Fryer on Amazon!
3. A Dutch Oven
If you don't have a stovetop, you can use the oven in your backyard. A Dutch oven is perfect for this because it's made to withstand high temperatures. Not to be mistaken with a dutch oven pot, this method is used on an open flame.
When you think of a dutch oven, you may think of the common dutch oven pot that is used on a stovetop or in the oven. This pot is made of cast iron and a wonderful cooking vessel for the house.
An outdoor dutch oven, however, is completely different.
The outdoor dutch oven is made to be cooked over an open flame. This pot is made entirely of heavy-duty cast iron and contains small support legs and a flat lid. As you put the pot over a flame, you also place hot coals on top to create an "oven effect" where heat is coming from both the top and bottom.
To bake pastries with a Dutch oven or other heavy pot, preheat the pan on medium-high heat before adding pastry dough – make sure not to crowd them either as that will steam the dough.
Bake for around 20 minutes or until golden brown and baked all the way through. You want to make sure the Dutch oven is really hot before adding the pastry, so it'll cook evenly.
For this purpose, I use the Enameled Cast Iron Covered Dutch Oven that I found on Amazon. This dutch oven will cook pastry dough very well and could be used for anything from frying chicken to making soup. You could check out this Dutch Oven on Amazon!
4. A Toaster Oven
If you have a toaster oven, you are absolutely set. A toaster oven is basically a smaller version of a conventional oven. This is a great option if you don't have access to your oven or stovetop since toaster ovens are quick and easy to set up and use.
I usually tend to preheat the oven longer to ensure I have the proper temperature in my toaster oven. I set it to the temperature according to the recipe that I am using and let it preheat for at least 15 minutes.
As you would with a conventional oven, line your baking sheet or pan and place your pastry on it. Bake according to your original recipe and you will have a wonderfully cooked pastry!
I'm fortunate enough to have a great toaster oven at home to be able to bake things like pastry dough without a regular oven.
I use the Oster French Convection Countertop and Toaster Oven. While this is the best toaster that I've ever come across, you do need to have some countertop space to place it on.
This toaster oven has a Single Door Pull and Digital Controls which works great for almost anything you're trying to bake in it. Including a whole turkey! You can check out this toaster on Amazon!
5. A Tandoor Oven
This oven is typically found in Indian restaurants and gives food that delicious, smoky flavor. Similar to an Earthen oven, the Tandoor oven is just a clay oven that houses fire. The only difference between the two is that a Tandoor oven has an opening at the top.
To use a Tandoor oven, place the pastry dough on the sides of the Tandoor oven. The sides get hot so it's a good place to put the dough. If you're cooking something that needs more air circulation, then it may be better if you don't use this method and opt for another one instead.
This method is best if you desire a more crispy outside of your pastry.
The unique quality of a tandoor oven is that you cook your food on the sides of the oven rather than at the bottom. Because the sides of the oven are thick and the temperature inside is very high (around 700 degrees Fahrenheit), the dough is able to stick to the sides.
While a tandoor oven is not that easy to come across, my father-in-law has one in his backyard and uses it almost every week! The best thing that I could recommend that is close to this will be this awesome Portable Pizza Grill Oven that I just came across. If you have one at your home, a tandoor oven or this pizza oven will work great for baking pastry dough!
6. An Earthen Oven
If you're lucky enough to have an earthen oven, then it's time to put this thing to good use. An earthen oven is basically a hole in your backyard that has been specifically designed to bake/cook things.
The great thing about this oven is that it can be used for a variety of different dishes – not just pastries. To use an earthen oven, make sure the ground is level. Place your dough on a sheet tray and then put it on, say, a metal rack in the oven.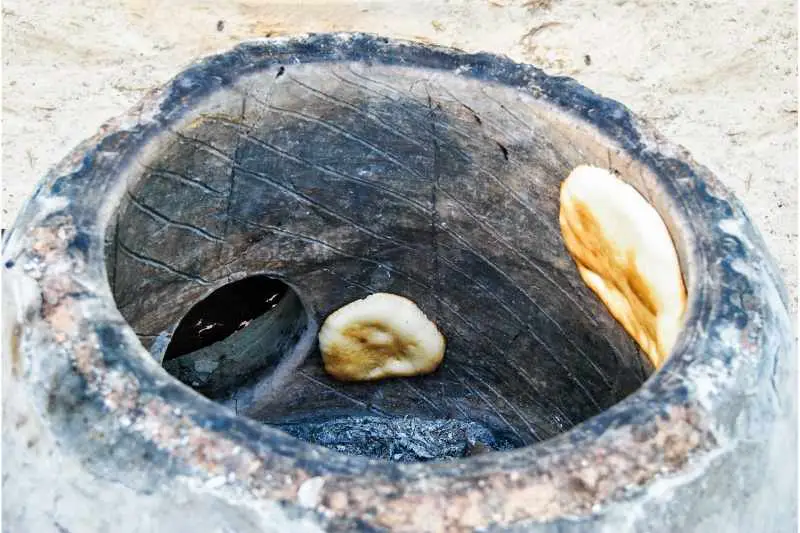 You can also place the dough on a tray so that it doesn't burn or stick to your oven.
It is important to note that an Earthen oven can get really hot. So your pastries may be ready even before the 20-minute timer goes off. So you want to be careful when taking them out.
I've had this method recommended to me by my relatives. This type of oven is a rare sight nowadays, however, it will still work great for this!
Can You Cook Pastry In A Microwave?
In general, you cannot bake pastry dough in a microwave. You can heat it up, but you won't be able to bake pastries or doughs because of the lack of air circulation inside microwaves. The end product would result in a soft, mushy pastry.
Plus, a microwave won't necessarily give you the same texture as an oven. So it's not really recommended, especially if you're baking some delicious pastry doughs for your family or friends.
Ovens or other methods (like the ones listed above) allow the pastry to become crispy. A microwave would leave you with a horrible, mushy mess.
How Long Do You Bake Pastry Dough On A Stovetop?
To bake the pastry dough on a stovetop, it would take about 20 minutes or until golden brown. Preheat your pot and place the pastry dough inside. Cover the top with a film of aluminum foil and close with a lid.
Do not open the lid often as this will rapidly lower the temperature inside of the pot. If you want a crisp, golden exterior on both sides, flip the dough halfway through and properly seal the pot.
Do not add any oil to the pot because it will be absorbed into the dough causing it to become greasy.
A different method, that still requires a stovetop, is to fry it! I personally love doing this regardless of having an oven.
I preheat a small amount of oil in a pan (not too much since we're not deep-frying the dough). Placing the dough onto the pan, I fry it on medium heat until the bottom is gold and crispy. Then, I flip it and cook the other side.
What Is The Best Way To Bake Pastry Dough?
As a whole, the best way to bake delicious pastry dough in your own home is to use an oven. The next best method, if you do not have an oven, is to use a toaster oven. It is smaller and preheats much faster than a conventional oven.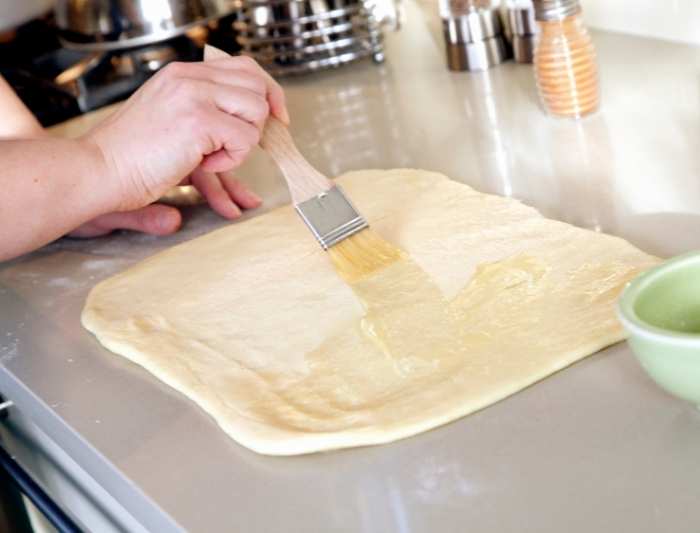 It is important that you follow the directions above so that you'll bake pastries perfectly every time. And who doesn't love to eat a delicious pastry? It's great for a snack or as part of an appetizer spread.
To Summarize…
Whenever I go to a friend's house, I always have to bring something sweet. There was a time, when I was in the middle of moving into a new home, that I didn't have access to my oven yet. Improvising and testing different methods helped me so much!
If you do not have an oven or you just cannot access it, you can easily bake your pastry dough. Use one of the methods outlined above and you'll be baking delicious pastry doughs in no time!