This post contains affiliate links.
Throughout my years of baking desserts, I realized that I need to start expecting the unexpected in a kitchen setting. I've baked cakes in cake pans for a very long time. However, one day while preparing to bake another cake, I've realized that I let my best friend borrow my only cake pan a few weeks back. Trying to think quickly on my feet I started asking myself: How can I bake a cake without a cake pan?
How to bake a cake without a cake pan? Mold a cake pan by using heavy-duty aluminum foil. Fold a few foil sheets to make a thicker sheet and bend it in the shape of a circle. Place the circle on top of a few more layers of aluminum foil and fold those layers into the inside of the circle. Tuck them in and staple them together.
After being caught off guard once, I promised myself that I would never put myself in this position ever again. This motivated me to come up with many ideas on how to bake a cake without a cake pan. I tested, implemented, and vetted each idea to make sure that I will always be able to bake a delicious cake no matter my circumstances.
Make Your Own Cake Pan From Aluminum Foil
If you're like me and you foolishly lent your only cake pan to your best friend, the first thing you're gonna want to do is call to get it back. But if that doesn't work, you can always make your own! However, if you don't own a cake pan and you don't want to go out of your way to empty your wallet, this method will work great for you as well!
Have you ever heard the saying "Aluminum foil is a baker's best friend?" Don't worry, I haven't either. Nevertheless, it's true! Aluminum foil is such a versatile tool in baking that it can even be used to create a makeshift cake pan.
Now let's get down to the nitty-gritty. You must use Heavy-Duty Aluminum Foil; if you use the thinner foil, there's a chance the cake batter might leak. I've used heavy-duty aluminum foil for many different reasons while baking in my kitchen. I would recommend getting the Foilman's Heavy-Duty Aluminum Foil for this task. You can find it on Amazon here.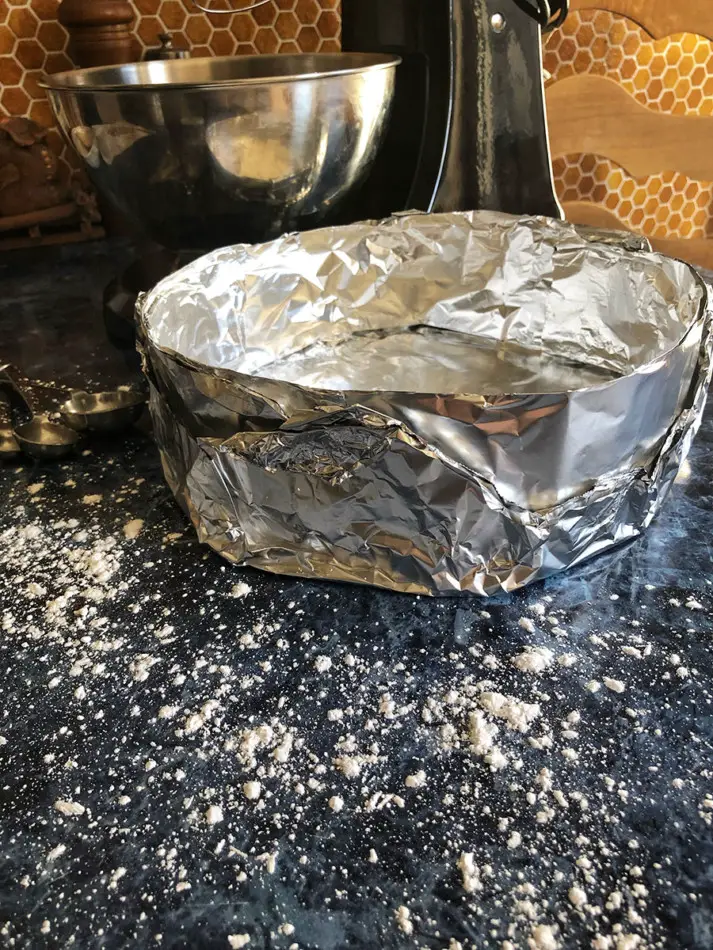 Now I'm gonna teach you exactly how you can make your own aluminum foil cake pan!
First, you need to know what size cake pan you're trying to work with. The one cake pan I owned was very small because I've always thought that this small pan was going to be enough for me. However, now that I wanted to make a sponge cake, I realized that I needed a bigger pan. So I let my best friend keep the small cake pan that I owned for so long.
*Side Note: You might also want to know how to Store Your Cake Batter The Right Way. I wrote an article about Storing Cake Batter The Right Way, which you can check out here!
When I realized that I needed a large cake pan for the cake I was trying to bake, I quickly understood that it was crucial to know the dimensions of the cake based on the cake recipe that I am working with.
Thankfully, I did some research and came across a helpful site that provided some dimensions with the amount of cake batter each pan can fill:
| | | | |
| --- | --- | --- | --- |
| Pan Dimensions (Inches) | Volume (Cups) | Pan Dimensions (cm) | Volume (mL) |
| 6×2 | 4 | 15×5 | 948 |
| 8×1 1/2 | 4 | 20×4 | 948 |
| 8×2 | 6 | 20×5 | 1.4 |
| 9×1 1/2 | 6 | 23×4 | 1.4 |
| 9×2 | 8 | 23×5 | 1.9 |
| 10×2 | 11 | 25×5 | 2.6 |
These cake pan dimensions work great for any sized caked that you're trying to bake.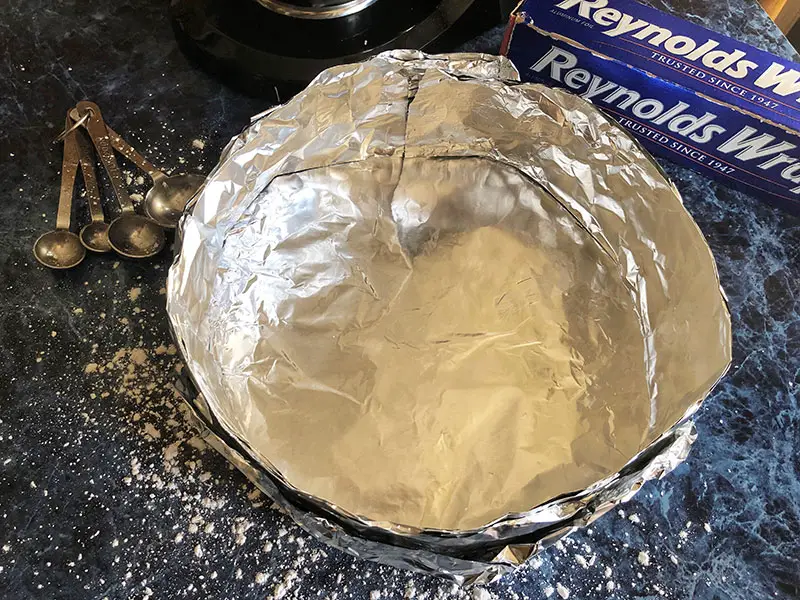 Make sure to smooth out the inside of your foil pan with your hand so that your cake looks good!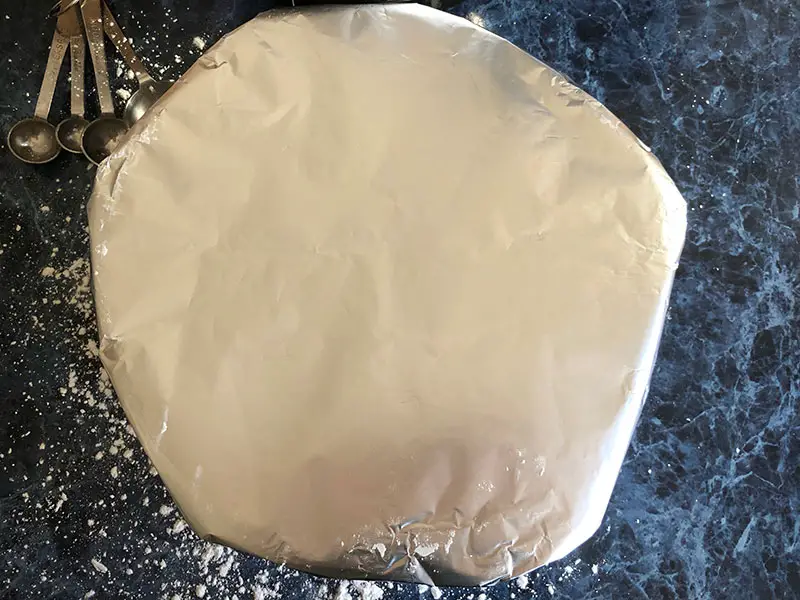 Add a few extra layers to the bottom of your foil pan!
But don't stop there! You can play around with different shapes. I still like to make my own heart-shaped cake pan from the foil. Anytime you make any size pan, remember to place your makeshift pan onto another slightly larger sheet of aluminum foil.
Take the excess foil from the bottom sheet and press them against the sides of your pan. I even like to use two sheets to make it thicker to ensure that my batter doesn't spillover. But remember, even though this has a bottom, still bake your cake in this pan on top of a sheet pan to make it extra sturdy.
Here's a video that summarizes this technique of making your own cake pan:
Just remember, before you bake anything inside the makeshift foil cake pan you just made, you'll have to properly grease it. Greasing aluminum foil can be a tricky task which is why I spoke about it in one of my other articles where I baked some cookies on aluminum foil. Check out this article here!
Use A Sheet Pan Instead Of Cake Pan To Bake The Cake
You heard me right! You can bake a cake with a sheet pan. Yes, the super flat sheet pan you use to make dinner in the oven. After trying to come up with several different methods, I thought to myself, "why not just learn how to bake with a cake with a different pan?"
Using a sheet pan to bake a cake could be hard at first. Before you do anything, you need to understand which type of cakes will work best on a sheet pan. First, you can make a beautifully delicious roll cake.
A roll cake does not require a traditional cake pan. This spongey, cream-filled cake is easier to tackle than you think and will definitely impress your guests.
There are so many delicious recipes out there, this article here has a bunch of recipes from the legend Martha Stewart herself.
She uses an 11-by-17 inch sheet pan to do her baking to produce my favorite jelly roll cake. If you don't like jelly rolls, use any filling of your choice! My family is big on whipped cream so I stick to a simple whipped cream filling.
So don't fret! If you don't have a typical cake pan, you can make a fantastic roll cake. Mix and match different flavors of batter and choose any filling you want! It will taste as great as it looks.
Make Something New! Creative & Nontraditional Cakes
I think that cake is one of the best desserts you can make for your guests or as a treat to bring to a potluck. But the thing that bugs me is placing my cake onto a table filled with other cakes made by my other relatives. No one can eat THAT much cake in one get-together!
I want my dessert to stand out so I turn to make something a little less traditional: Like a mug cake, some cake pops and of course, cupcakes! This is perfect for people who don't even own ANY pans!
*By the way, if you are interested in knowing how to get Stuck Parchment Off of Your Cake and how to Prevent It, I recently wrote an article about Removing Stuck Parchment Paper, which you can find here!
Make A Mug Cake:
What's a mug cake you ask? Well, it's exactly what it sounds like. Its a cake made inside a mug. Sometimes I love to surprise my husband with something sweet after a long day of work. If I don't have a lot of time on my hands, I just turn to the old-fashioned microwave!
You don't need any cake pans if you're using a microwave. You can serve as a few individual mug cakes for your guests. This is the perfect solution if you're only entertaining a few people.
It's thoughtful because each person will have an individual cake, it takes less than 5 minutes to make a mug cake AND you can even have a molten filling!
Check out this video here showing you exactly how to make a mug cake:
Yes, cake pans are very convenient in baking but don't stress yourself out! There are so many options you can choose from to successfully bake a cake without a cake pan! At this point, I even look at it as a luxury rather than a necessity.
Make Some Cake Pops:
If you don't even want to crank open your oven, you can do a tiny bit of cheating. If I'm in a rush or when I don't have access to any pans for baking, I turn to cake pops! They are so beautiful and unique; why don't we serve more of these at parties?
My trick is to go out and buy a moist pound cake. Again, the beauty in this is that you can choose which flavor route you want to take. I crumble up the cake and add some frosting into the crumbs which help hold the cake balls after being formed.
You can buy frosting from the store or make some homemade frosting. I alternate between chocolate and vanilla but you can go crazy and use other flavors! After adding the frosting, I like to take about a tablespoon of cake and mold it into balls.
Throughout my cake pop baking experiences, I've bought plenty of different Cake Pop Sticks that I've used in my oven. So far, I only found one company that offered the perfect length and quality of cake pop sticks for me. These cake pop sticks are super affordable and you can find them on Amazon here.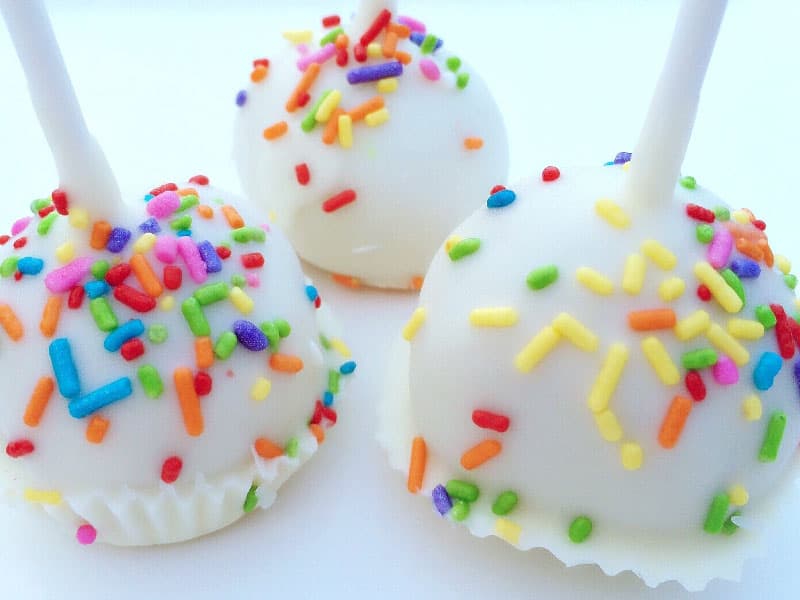 Stick the cake pop stick gently into the cake ball until it's about halfway in. Then you can dip it in white chocolate, dark chocolate, or any other coating of your choice. There you have a no-bake cake solution that requires zero pans or ovens! There's a mini cake for everyone!
Make Some Cupcakes:
You heard me right. If you literally do not own a single baking pan/sheet, this idea is perfect for you. When I was younger and had just started baking, my household didn't have a muffin tin. This means no muffins or cupcakes.
I didn't really want to ask my parents to buy a muffin tin when I was only planning on using it for my brother's birthday. Little did they know, I'd be making cupcakes more often than the sun rises!
If you go to any major supermarket, you can find foil baking cups. These cups are made of heavy-duty aluminum foil and come with liners inside already. Check out the ones that I use on Amazon here. These aluminum cups work perfectly for my cupcake needs.
The only thing I need to point out is DON'T overfill these baking cups. You don't want a mess in the oven!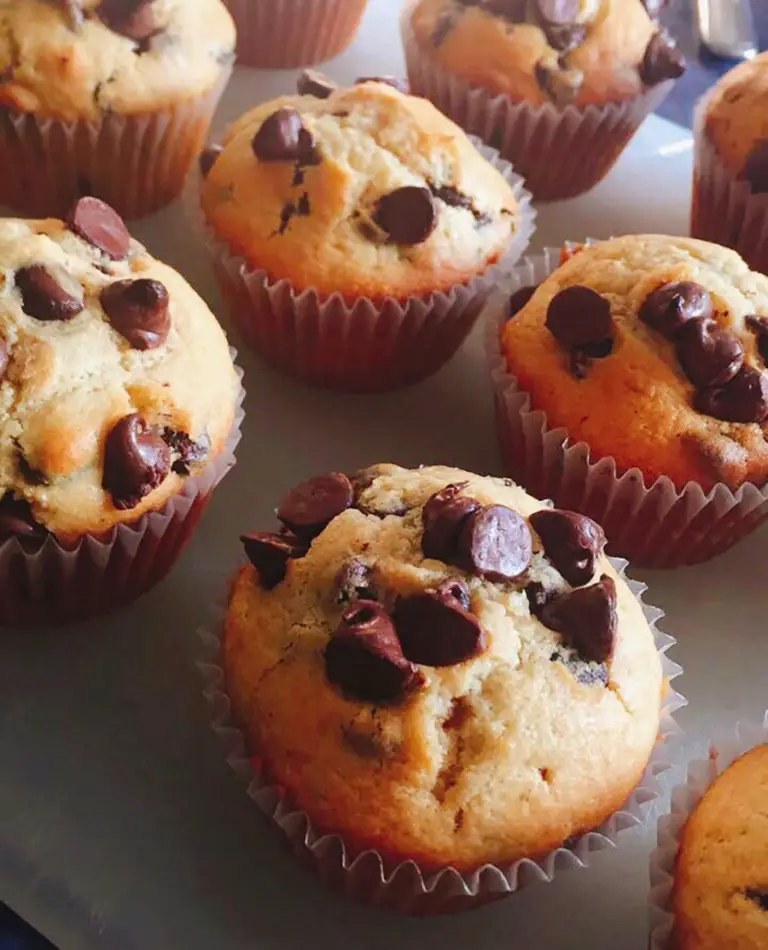 You can place a heavy-duty aluminum foil sheet underneath your cupcakes to assure that your oven would stay clean. A few articles ago, I spoke about if it's safe to use aluminum foil in an oven. You can check out this article here.
Now comes the part we've all been waiting for: Bon Appetit!!!
*Side Note: You might also want to know How To Bake Cookies Without A Cookie Sheet. I recently wrote an article that talks about What Can You Use To Bake Cookies Without A Cookie Sheet, which you can check out here!
To Summarize…
All I'm trying to say here is that having a cake pan in your kitchen is not always necessary to make a gorgeous cake! I was able to successfully make a whole bunch of delicious cakes and it wasn't even as hard as I thought to do it without a cake pan. I hope that the methods I've mentioned would help you achieve that perfect cake without using a cake pan!