This post contains affiliate links.
Can You Bake Cookies Without An Oven?
As a general rule, cookies can be baked without using an oven. There are a variety of alternative methods that do not require an oven. Cookies can be baked almost anywhere as long as there is a reliable heat source. Make sure to change the recipe accordingly depending on the method you use.
Whether you don't have an oven available or you'd rather not turn it on during a hot summer day, there are plenty of other methods you can use to create a batch of delicious homemade cookies!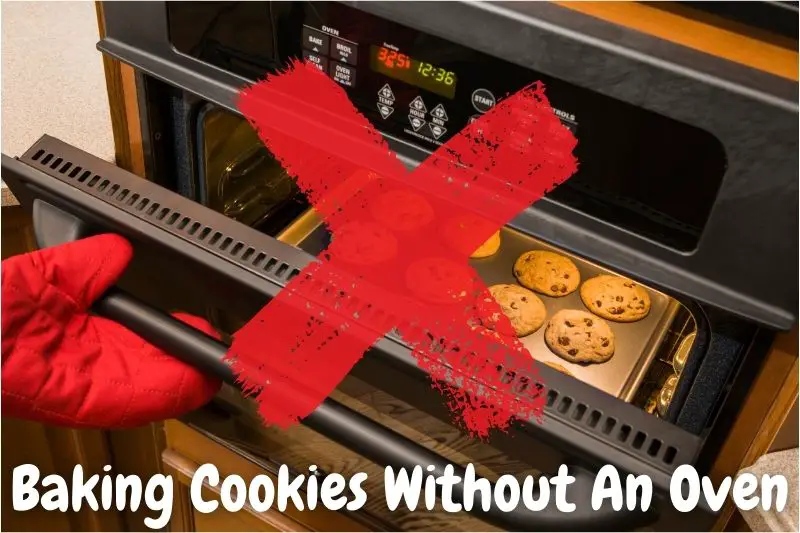 *By the way, if you're looking for some new cookie sheets/baking pans to replace for your kitchen, I recently came across the Perfect Nonstick Cookie Sheets / Baking Sheets Set that I got for myself and they work great! You can check out these Nonstick Cookie Sheet Set on Amazon!
All you need is your batter, a few kitchen essentials, and a heat source. Here, I'll break down my favorite methods to use in order to bake cookies without an oven.
8 Best Ways To Bake Cookies Without An Oven:
Generally speaking, the best way to bake cookies without an oven is by using a toaster oven. A toaster oven is inexpensive and works just as well as a regular oven. However, you'll only be able to fit a limited amount of cookies at a time while using a toaster oven.
Below are all 8 alternatives for baking cookies without an oven:
Use An Air Fryer
To use an air fryer to bake cookies, spray the basket with a nonstick spray. Then prepare the cookie dough as directed. Place each portion into the basket and cook in the air fryer at five degrees less than in a conventional oven. Take them out and allow them to cool at room temperature when done.
I have found that an air fryer can be a great substitute if you want to recreate the texture of a traditionally oven-baked cookie.
Since the basket inside of an air fryer is so small, you'll want to make your cookies in smaller batches so they have room to expand.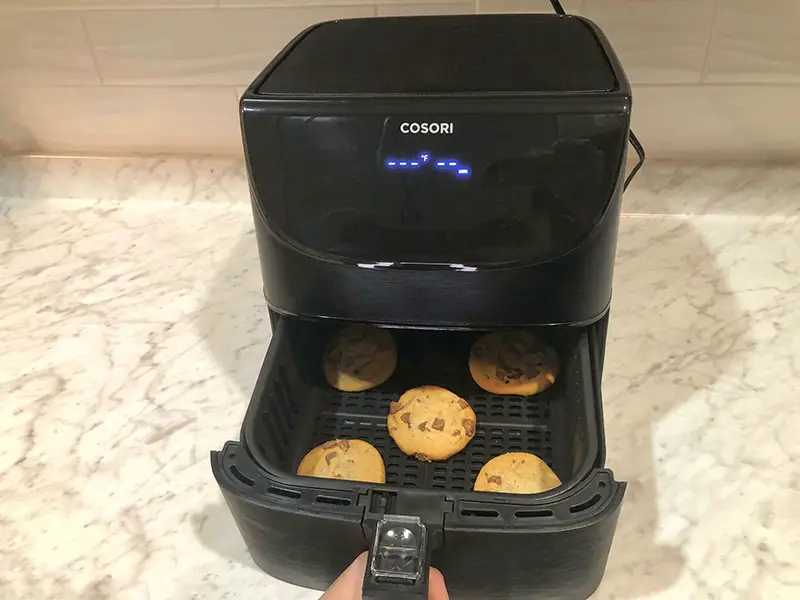 I recently wrote an article where I talk about the 4 Best Air Fryers on the market right now. Click on this article if you're looking for a throughout breakdown of these 4 air fryers.
I personally use and recommend the COSORI Smart Wifi Air Fryer. This air fryer has served me for many years and works great for warming up your delicious cookies. This air fryer even has an app that alerts me every time my baked goods are ready while connecting to my Alexa or Google Assistant. Check out this Air Fryer on Amazon!
Also, you will want to turn your temperature down by about twenty-five degrees to prevent your cookies from getting burned.
Once you've placed your cookies inside, set your timer for about five minutes and you should end up with perfectly crispy, slightly chewy cookies.
Use a Toaster Oven
Using a toaster oven to bake cookies is one of the best alternatives to use if an oven is not available. Be sure the temperature gauge is accurate and cookies aren't sitting too close to the coils to prevent burning. Make sure to spread the cookies just enough so that they don't stick to one another.
A toaster oven can work in a pinch if you're looking for an alternative way to bake cookies.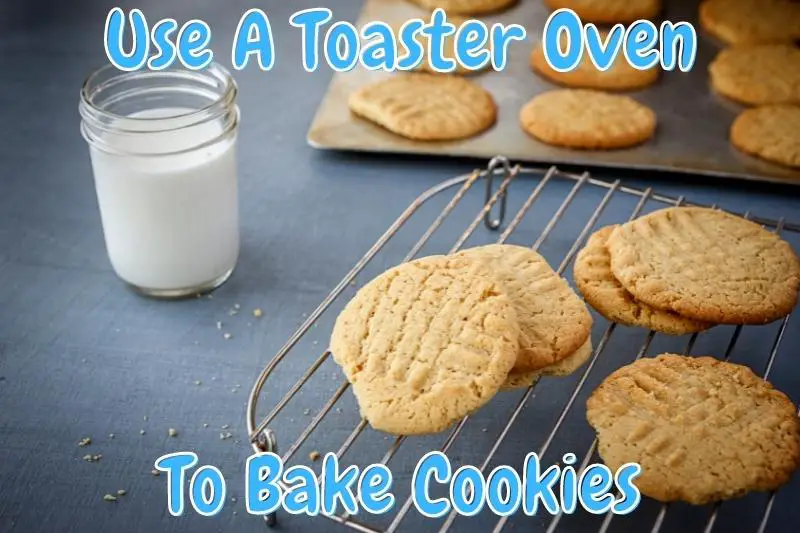 Don't use parchment paper when making cookies in a toaster oven, as this can cause a fire. Your best bet is to grease a regular cookie tray and use that to set your cookies on. Also, make sure your toaster oven's thermometer is accurate.
Most thermometers on toaster ovens lie, which leads to burnt or undercooked cookies.
Your best bet is to preheat it and then use a cooking thermometer to note any discrepancies. Make sure to adjust your cooking time and temperature based on your discoveries.
*By the way, I recently wrote an article about How To Fix & Save Your Burnt Cookies. This article breaks down the best ways to fix your burnt cookies so that they look freshly baked. You can check out this article here!
Make No-Bake Cookies
No-bake cookies can be made using a combination of milk, butter, sugar, and other ingredients. Mix these ingredients on a stovetop and bring them to a boil. Allow the mixture to cool before scooping a spoonful out at a time onto parchment paper or a baking sheet. Let them set in the fridge overnight.
One of my favorite alternative cookie recipes is no-bake cookies. No-bake cookies are really simple to make and require little time or effort to pull off the perfect batch.
Most no-bake cookie recipes only require a few simple ingredients, but they are highly customizable and you can add all sorts of things to make your cookies pop!
I love to spice mine up with nuts, cinnamon, coconut, and even crushed-up peppermint bark.
If you have issues with your no-bake cookies becoming gooey, you probably didn't allow your mixture to boil long enough. Be sure to increase your cook time by a few minutes in order to firm up their texture.
*By the way, I recently wrote an article talking about How Many Cookies Do You Need Per Person For Christmas. In this article, I created a calculation of how many cookies to make per person for Christmas. This is important to know so that you will always have enough cookies! You can check out this article here!
Use A Stove Top
Cookies can be made on a stovetop using a skillet on medium heat. When using the stovetop it is important to not cook more than four cookies at a time to avoid overcrowding and ensure even baking. Make sure to cover the skillet with foil to prevent the cookies from sticking to it.
While a stovetop is one of the most suitable alternatives to use when making cookies, it's important to not get overzealous! You will end up with better results by only making a handful at a time.
Below, I found a video that shows exactly how to make cookies using a stovetop:
Too many cookies will overcrowd your skillet and leave you with cookies that are unevenly cooked.
Be sure to use a large skillet with this method. You'll want to make sure they all have room to expand. Set your cookies on the skillet at medium heat for about three minutes before carefully turning them over.
For easy removal, I suggest covering your skillet with aluminum foil, as you'll need to turn them halfway through the process.
Use A Slow Cooker
To use a slow cooker to bake cookies, grease the bottom of the slow cooker with butter or nonstick spray. Consider using parchment paper as a liner. Prepare the cookie dough and pour it evenly into the slow cooker. Allow it to cook at low heat for three hours. Let cool and then slice to serve.
One of my favorite failproof treats to serve my guests is a delicious slow cooker cookie. It's shaped similarly to a cookie cake, but it's served warm and slightly gooey.
It's a delicious treat to enjoy with friends and family on a cold winter's day.
Simply take the ingredients for your batter and combine them as if you're going to use a regular oven. Then set a piece of parchment paper in the bottom of your slow cooker.
Pour your mixture on top and set your temperature to low heat. Allow it to cook for about three hours.
After it finishes cooking, turn it off and let it cool for about an hour. Then slice it up and serve it with a dollop of ice cream on the side.
Use A Pressure Cooker
To use a pressure cooker to bake cookies, add water to the trivet of the pressure cooker as usual and prepare premade cookie dough or homemade dough. Place the cookies into the chamber and seal it tight. Bake small batches of four or five at a time in the pressure cooker until they are done.
Pressure cookers are one of the most convenient substitutes to use in order to make cookies, but make sure you follow all of your cooker's instructions to ensure you use them safely!
Simply take your cookie dough (either premade or homemade) and form them into evenly sized cookies.
Next preheat your pressure cooker and add the appropriate amount of water before placing your cookies inside.
Allow them to bake for about eight to ten minutes for a cookie that's chewy in texture. You could increase that time for crispier cookies but keep an eye on them!
*By the way, I recently wrote an article about Why Your Cookies Might Not be Spreading. This article speaks about all the reasons your cookies will remain in a ball instead of spreading into a cookie shape. You can check out this article here!
Use A Microwave
Mug cookies can be created as an alternative when using the microwave. Combine brown sugar, eggs, chocolate chips, and flour and mix them inside a microwavable safe mug. Set the microwave on high for forty-five seconds or until the mixture is cooked through.
Whether you're in a college dorm room or it's late and you don't feel like turning on the oven, a microwave can be a great substitute!
You can easily whip up a mug cookie whenever your craving for something sweet strikes!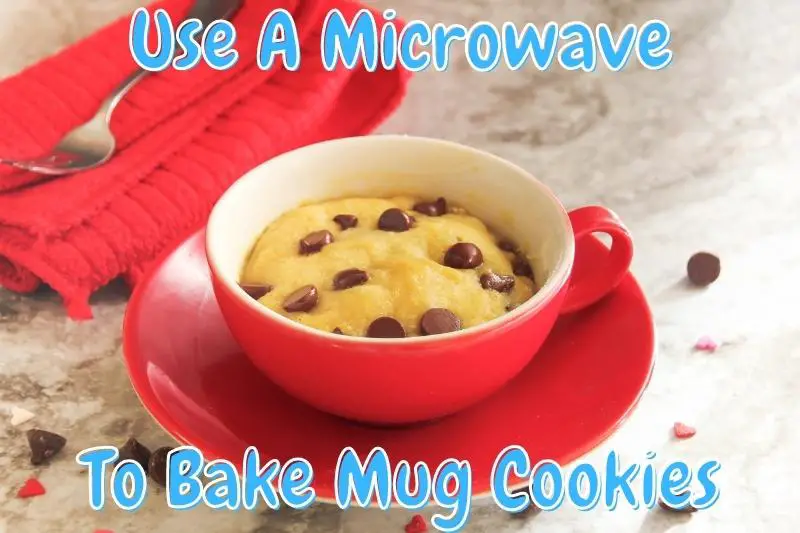 Before you start, make sure that the mug you're using is microwave-safe. Next, measure a tablespoon of brown sugar and butter. Combine with an egg yolk and add a teaspoon of vanilla extract.
Add three tablespoons of flour and a handful of chocolate chips.
Mix the ingredients and pour them into the mug. Set it in the microwave for about a minute and then allow it to cool for a few minutes before you dig in and enjoy.
Use A Dutch Oven
Line the Dutch oven with parchment paper to ensure the cookies don't stick once they are cooked. Take the prepared cookie dough and roll it into evenly shaped balls. Place the Dutch oven over the fire and then place the charcoal briquets on top. Let the cookies bake for eight to ten minutes.
I enjoy spending time outdoors whenever I can, and a Dutch oven makes it convenient to whip up a batch of cookies no matter where you may roam.
It's a great alternative to an oven and is pretty fail-proof and easy to use.
You can adapt your favorite cookie recipe easily for your Dutch oven the next time you're out enjoying a camping trip with your family too.
Simply take your premixed batter or your ingredients, combine them, and set them on top of a layer of parchment paper for easy removal.
Because Dutch ovens work reasonably quickly it's a good idea to keep an extra close eye on your cookies as they bake.
They're usually done within ten minutes so start checking on them around eight minutes in order to ensure they don't get too crispy.
For this purpose, I use the Enameled Cast Iron Covered Dutch Oven that I found on Amazon. This dutch oven will cook pastry dough very well and could be used for anything from frying chicken to making soup. You could check out this Dutch Oven on Amazon!
Can You Bake Cookies Without A Cookie Sheet?
As a general rule, there are many different ways to bake cookies without using a cookie sheet. Some alternatives to use in place of a cookie sheet include a casserole dish, cast-iron skillet, silicone pan, and even a piece of tinfoil molded into a sheet shape.
If you can get a little creative, cookies can also be made without using a cookie sheet.
*Side Note: You might also want to know How To Bake Cookies Without A Cookie Sheet. I recently wrote an article that talks about What Can You Use To Bake Cookies Without A Cookie Sheet, which you can check out here!